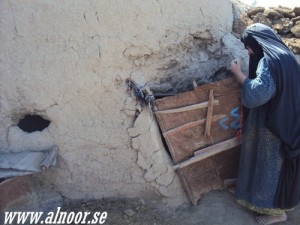 A single woman in her sixties, her mother and father died and she has no brother or relatives to help her. She has been living in a cave in Eefach, in the Diwania province in the South of Iraq for so many
years. The size of her living area is 2m x 2m x 1.5m. Whenever she gets up her head bangs into the ceiling.
This woman is tired of being in fear and pain in her life. She doesn't recognise cold weather or hot weather during all these long years. She lives on very little help from her neighbours. On many occasions she couldn't find anything to eat and is desperate for food, as all the people around are also very poor.
When the appeal was raised World Wide Welfare took action by responding to the urgent appeals from other organisation on the ground and visited her to see her condition. She was very scared; the place she was living in was far from a human habitat.
The appeal touched the hearts and minds of people supporting World Wide Welfare projects. Food and cash assistance was given to her immediately. Some cash was also allocated to build a room suitable for a human being, household appliances, blankets, clothes and a fridge was donated to her and other people managed to get her electricity.
After a few days the building of the room was completed and her condition improved dramatically.
With a little help from many people we managed to change the life of this woman for the better.
World Wide Welfare projects are making a real impact on the lives of many poor families. Raised funds help other poor people like this woman mainly with food parcels and blankets which were in high demand.
Please donate to support our development projects.